My diagnosis was similar to most. I had been sluggish for weeks, lost weight and was making frequent visits to the bathroom. My Mother called our family pediatric practice. A young, recent medical school graduate had become part of the practice. His name was Jack...
read more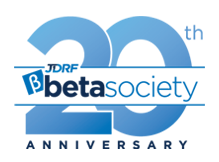 Celebrating 20 years of JDRF BETA Society members helping to accelerate T1D research.
I am proud to be one of JDRF's 2000+ BETA members. Join me!