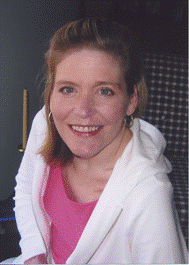 Kelly, my sister-in-law, was bright, motivated, an honor student, high school cheerleader, and President of her college sorority. She was a respected college recruiter and a positive influence for hundreds of high school students as they made choices about their next steps in life.
She was diagnosed with type 1 diabetes when she was 11 and met every challenge of our disease: acceptance, insulin resistance, and complications. Fingers, toes and both legs were amputated, her kidneys failed and she was on dialysis until she received a kidney transplant from my wife. She had partial vision loss and a device was implanted to help her stomach empty.
She died from diabetes complications at age 35 after living with diabetes for 24 years. She never married, had children or fulfilled the career she prepared for.
This site is dedicated to Kelly. May her life serve as a reminder that we are humbled by diabetes and the impact it has on our lives. May her life also serve as motivation for us to embrace the treatment options available and to live our lives well with diabetes.