If you are new to type 1, this is for you.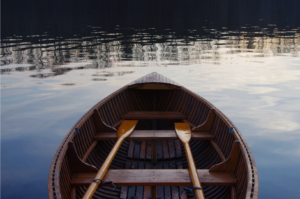 You didn't ask for type 1 diabetes and it certainly didn't arrive with much notice. I am sorry for all the change going on now. Life isn't a straight line and some turns don't come with much warning. Type 1 is one of those!
While it requires attention now, please take a deep breath (or whatever you do to deal with stress) and know you are not alone. Many others, including me, have been exactly where you are and live well with type 1. And you can, too.
First … there is a lot coming at you. It may not be clicking or sticking. That's normal. There's a lot to learn and it WILL eventually make sense.
Until then, here are a few topics that may help.
You did not cause your type 1 diabetes.  
If you are wondering why you got type 1, you did nothing wrong.  Type 1 diabetes is a result of … get ready, " … insulin producing beta cells in the pancreas being mistakenly destroyed by the body's immune system." (Yes, a physician friend told my son that his immune system was TOO good.)
Why were beta cells in my pancreas attacked?
No one really knows.  Viruses have been mentioned as a possibility. There is likely a genetic component.  (But tell that to my identical twin nephews … only one was diagnosed at age 14.  They are now 30.)
What about insulin?
Recently, there's some negative press about insulin. How it's not a cure and pricing in the United States has gone inexplicably high (all true).  But I love insulin.  It's one of the modern miracles of medicine over the past 100 years and it makes living well with type 1 possible.
Is there a cure for type 1 diabetes?
Nope. There is promising research (more than ever), but for six decades I've heard a cure would be available in five years.  You gotta live for today … my advice is to dig into the good and innovative tools available now (and they are they getting better every year).
On being frustrated. 
It's normal.  Maybe even advisable.  Each of us deal with change differently … and this is life change!  I say go with your emotions.  You have every right to protest.  But know that your protest will be denied.  Eventually you'll come to a fork in the road.
And this is where I lean in.
That fork you're approaching is about Acceptance or Denial.
Our son's Emergency Room physician said it best, "I am sorry that you've been diagnosed with diabetes.  But you have a choice. Own your diabetes and you will control it.  Ignore it and it will control you. You can live a great life or really struggle.  It is your choice."
It is possible to live well with Type 1?
Want proof that that it's possible to live an active and productive life with diabetes?
Musician Nick Jonas
Miss America Nicole Johnson
All Pro NFL Tight End Mark Andrews
Rocker Bret Michaels
Supreme Court Justice Sonia Sotomayor
And while I'm an ordinary Joe, I've lived a productive life with type 1 for over 50 years. (I thought this was special, but during my Joslin Center medalist visit they shared that 125 fifty year medals were awarded that year alone.).  My life with the Big D includes playing competitive baseball from grade school into college (and coaching it for a decade), playing woodwinds and guitar, studying my butt off for two college degrees (working & studying full time in grad school), being married for 25+ years, having a son, a 30+ year career at places like KPMG, AT&T and then leadership roles at several high growth companies.  Oh and cycling 2000+ miles a year.  All with type 1.
YES, YOU CAN DO YOU … WITH TYPE 1!
For now …
You should not go about this alone.  Get help.  This starts with finding and working with a medical team to guide you.  You want to work with an endocrinologist and their diabetes educators.  (Sorry, this is not the time or place for a general practice physician.)  You may already have landed there.  If not, here is a site that may help: https://www.aace.com/find-an-endo
Other Helpful Places
Have a Filter
This site is full of gratitude for those that helped my journey. I didn't include those that failed me, because I cut them fast. Marginal help is out there … trust your gut, talk with others and run from it.
Finally, life threw us a curve ball with type 1 diabetes.  Curve balls are made to be hit.  With practice you will.  Here's to playing well with your new normal.