This is the fourth post reviewing the exercise spoke (or cluster of help) in the Diabetes Wellness Wheel. Below is the wheel with my standards, 2022 assessment, and adjustments for 2023.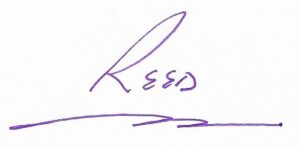 Diabetes Wellness Wheel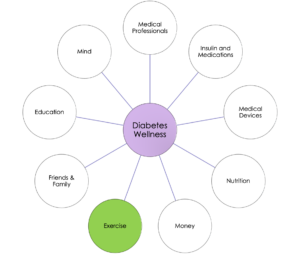 The benefits of exercise to the human body are well documented: less stress, better circulation & blood profiles, improved moods, and a sense of accomplishment. Even though blood sugars require attention during and after exercise, there are numerous benefits for type 1s. For 24-36 hours, my body is more responsive to insulin, and blood sugars are easier to control. And my moods and outlook tend to be positive. Exercise is the great equalizer for diabetes and one of my top five best practices.
Below are my standards, 2022 assessment, and adjustments for 2023.
Standards
For years, I've worked to understand the best frequency and duration of exercise for strength, cardio, flexibility, and core. The goals I developed are:
Flexibility: 10-15 minute stretches daily (goal is 95% of days)
Cardio (Aerobic): 3-5 workouts per week (goal is 90% of weeks with 3-5 workouts)
Strength (Anaerobic): 1-2 workouts per week (goal is 90% of weeks with 1-2 circuit workouts)
Core: included in daily stretches and circuit workouts (90% of weeks with 3-5 core work)
Cycling: 2,000+ miles of cycling for physical, mental, and social benefits.
2022 Narrative & Assessment (Score: 4 of 5; 5 = High)
Except for two weeks after both hip surgeries, I stretched for 10-15 minutes daily. It's become a habit after showering in the morning. I also stretch after cycling to remain flexible. In addition to flexibility, the stretches (modified yoga moves) are a source of mindfulness. I find them a positive way to start the day.
Before the two hip surgeries, I worked out 3-5 times in 39 of 43 weeks or 90.7%. That's right at my goal of 90%.
After the hip surgeries, my ability to work out was limited, resulting in working out 3-5 times in four of nine weeks at a much lower intensity and duration.
As for cycling, I rode 1,450 miles in 2022. Power Hour, an indoor winter spin class, was canceled due to Covid, meaning lower miles in Q1. I was riding well and pushing hard during Q4 and would have made the 2,000 mils goal without the hip fracture.
I use a heart monitor and cyclo-computer while cycling. They provide real-time data on duration, intensity, and workload. Even more, the Garmin 1030+ now has a data field for my Dexcom CGM.  Diabetes tech is moving fast, and this innovation improves my confidence and capabilities when riding with diabetes.
 I log my workouts in a calendar each year … you can read more about it here.  
2023 Adjustments
A total hip replacement in late November adds a wrinkle to my 2023 exercise goals. I was cleared with no restrictions on January 3, but the soft tissue and muscle surrounding both surgeries will take time to rehab and heal. Pain continues when I walk; my left quad is weak and numb. My left hip flexor is soft and tender.
My surgeon isn't sure how long the rehab will take but said the numb feeling could continue for two years. Yikes.
My exercise suffered in November and December due to inactivity. As a result, I've lost most of my aerobic conditioning, some muscle, and core strength.
My primary objective for 2023 is to rehabilitate my left hip with the same flexibility and strength as before the hip fracture. Then I will improve my aerobic conditioning, muscle, and core strength to mid-2022 levels.
Here are my plans and goals:
Daily stretch for 10-15 minutes (Goal is 95% of days)
Work out 3-5x/week to rehab my left hip, cardio, and/or weights (Goal is 90% of weeks)
Cycling 1,500 miles. This goal is a total SWAG (Sophisticated Wild Ass Guess), as I don't know when I can start cycling outdoors.
*******************