This is the second post reviewing two of the spokes (or clusters) of help in my Diabetes Wellness Wheel. This post focuses on Medications and Medical Devices. Below is the Diabetes Wellness Wheel and my criteria, assessment of 2022, and adjustments in 2023 for these two areas of help.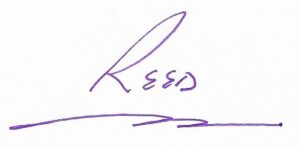 Diabetes Wellness Wheel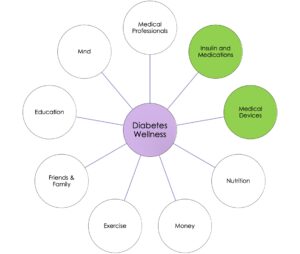 Insulin & Medications
Type 1s require insulin to live. Fortunately, we have options that revolve around its' timing and duration. There are also other medications to help manage our diabetes. The good news is that we have choices in our medications … Choices!
My Methods & Criteria include:
insulin that effectively controls blood sugars:

after meals,
in between meals,
while sleeping,
during exercise, illness, and other stress.
With my chosen technology (e.g., syringe, pen, pump, inhaler)

other medications that enable living well with diabetes.
Assessment & Narrative (Score: 5 of 5; 5 = high)
I transitioned to Novolog fast-acting insulin last year as my medical insurance plan prefers it over Humalog. It starts working in 15 minutes, peaks at 90 minutes, and stays active for 3-5 hours. This action is predictable, and I incorporate its' timing into my meals and exercise plans. It effectively moves high blood sugars back in range with bolus corrections.
I don't use long-acting insulin (e.g., Lantus) as I cover basal insulin requirements with an insulin pump. When I have been on multiple daily injections, Lantus did not control my dawn phenomenon (a spike in nocturnal blood sugars).
There are a variety of other medications that assist with blood glucose control, such as Metformin. Although targeted at the type 2 market, some type 1s incorporate them into their treatment. I do not use them as insulin effectively controls my blood sugars.
I continue to use 10mg of a statin, atorvastatin, to keep my LDL cholesterol below 100. It works as LDL levels are consistently in the 70s and 80s (81.4 in June labs). All other blood labs are in range except for chronically low white blood cell counts.
2023 Adjustments
All good here … continue with Novolog insulin and Atorvastatin.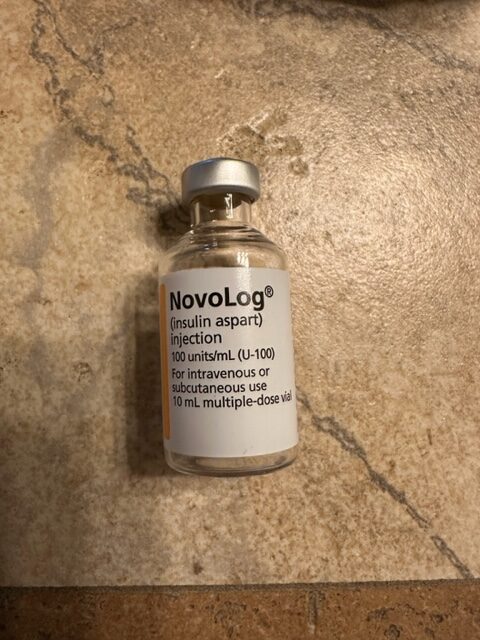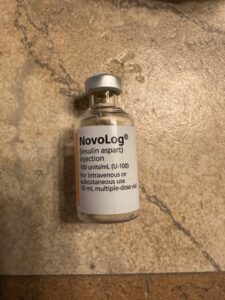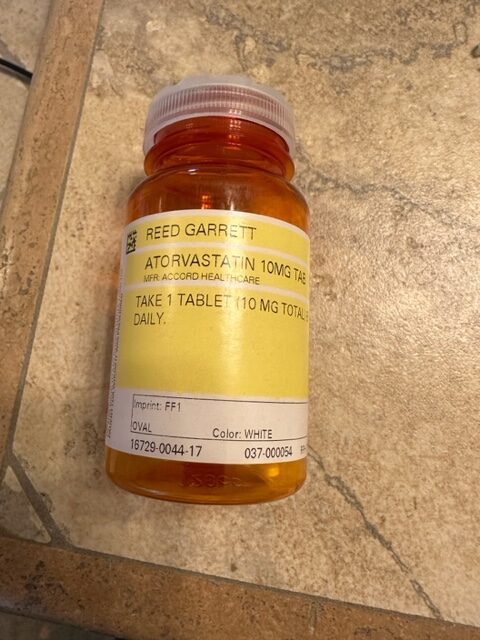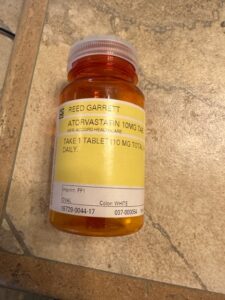 Medical Devices
A healthy pancreas excretes insulin naturally to keep blood glucose levels in a tight range. With a defective pancreas, we type 1s infuse insulin using technology (syringes, pens, pumps, and inhalers).
We also use medical devices to obtain our blood glucose levels. They fall into two categories:  blood meters (single data point) and continuous glucose monitors (trend data every five minutes).
The innovation and choices for our medical devices are growing quickly and require time, energy, and connections to stay current. But we have choices … Choices!
My Methods and Criteria include:
Staying current on the devices available for infusing insulin and obtaining blood glucose data.
Evaluating these devices for their ability to control blood sugars and fit with my physical and psychosocial needs. These include design, ease of use, software, mindshare, and results.
Assessment and Narrative (Score: 4 of 5; 5 = high)
I moved to a new pump device, the TSlim X2, after rejecting Medtronic's 670g system (bulky, poor closed-loop results) and an older Medtronic Paradigm pump (green screens are so last millennium). Here are a few of my reasons: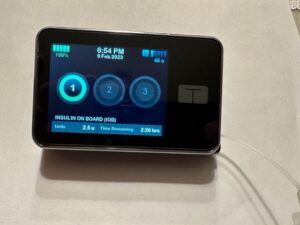 The design of the TSlim X2 is like a piece of art (if there were an iPhone for diabetes, this would be it).
The size is compact, especially considering it houses up to 300 units of insulin. An aftermarket clip provides a snug fit on my pants or belt (the provided clip makes it too bulky).
The pump is easy to use, except that infusion set changes take too long.
The touch screen is easy to read, and navigation is intuitive. I like tactile feedback, and it's available via the quick bolus button. The available mobile bolus app on Apple and Android platforms is flat-out cool and moves ease of use to a new level.
I prefer starting a Dexcom CGM session using the pump versus the Dexcom app.
My decision to go with Basal IQ (versus Control IQ) software was based on conversations with other type 1s using both. I was also able to trial Control IQ for several weeks. My local Tandem sales rep needed to be more knowledgeable about the difference in algorithms, but the Clinical Specialist was outstanding. She even referred me to other type 1s that use both. That helped my decision to go with basal IQ.
I used a Dexcom G6 intermittently during the year. I sometimes find the data overwhelming and use blood meters 10x/day when my glucose levels are consistent (no stress or illness).
I scored this area at 4 out of 5 because of the mindshare required to manage medical devices and blood sugars (I press my quick bolus button over 15 times daily). There is so much promise in closed-loop systems … I will move to these if and when they become trusted and deliver similar results (A1C < 6.0 and Time in range > 90%).
2023 Adjustments
I will continue with the Tandem TSlim X2 pump with Basal IQ and Dexcom G6 CGM. I am comfortable with both, and they work well for me.  Still …
For reasons discussed here and here, I will try and evaluate Medtronic's 780g after FDA approval and Tidepool's Loop.
As for CGMs, I will move to Dexcom's G7 platform when available and compatible with TSlim X2 Basal IQ software. Even though Abbott's FreeStyle Libre 3 is more accurate and provides glucose level data every minute, I don't plan to change. The Dexcom device integrates with my Garmin cycling computer and is the preferred device for closed-loop AID systems.
My primary method of obtaining glucose data continues to be using a blood meter 10x/day. I use a CGM when traveling, ill, and with other stress. It's long in the tooth, but I will continue to use a One Touch Ultra meter … mostly because of the carrying case. It has a zipped internal pocket where I store used strips and an outside pocket where I keep extra lancets and cash. Sometimes accessories make a difference!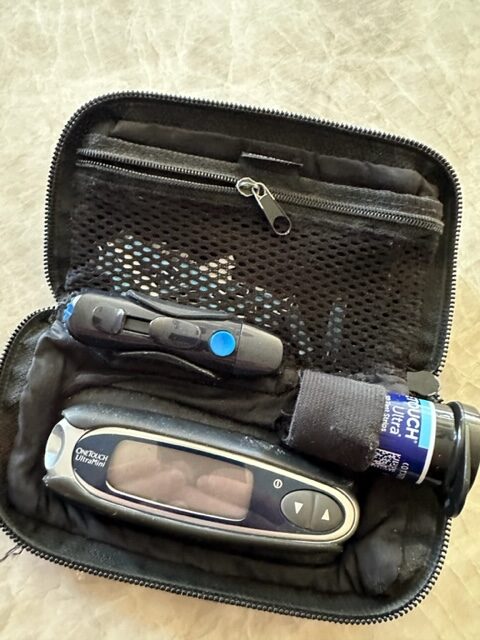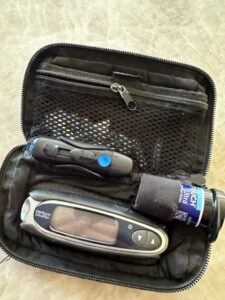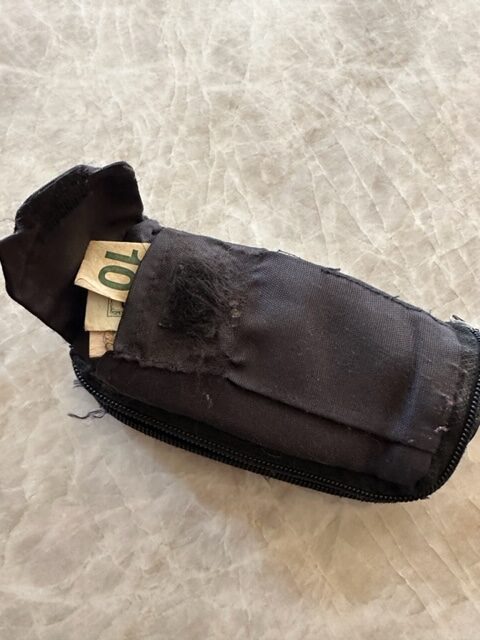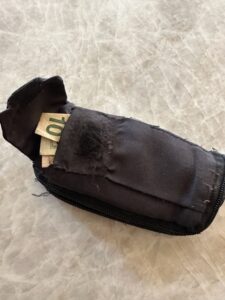 *******************************************