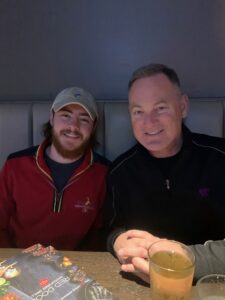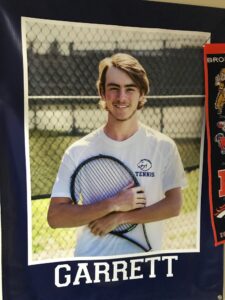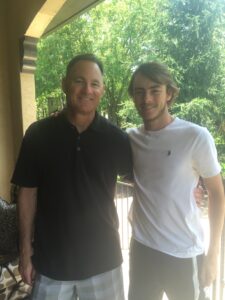 The two happiest days of my life are getting married and the birth of our only child, Connor. Born at Piedmont hospital in Atlanta, a year later we moved to Memphis and to Kansas City when he was four years old.
As you know by now, Connor was diagnosed with type 1 when he was 16. It was a day that Kendra, Connor and I knew could happen.  Our family trees were leafed full of type 1.  On my side, my maternal great grandmother, a nephew and me.  Kendra's side includes two sisters (a third with gestational diabetes), a niece and nephew.  So Connor's genetic lottery was generous with type 1.
Still, we hoped.  We prayed.  We tested for antibodies several times (they were negative).
Connor manages his diabetes his way, not mine.  His results and quality of life are good.  Yes, we talk about it and share strategies (yep … he teaches me new ways).  But first and foremost we are Dad and Son and our relationship is not defined by diabetes.  It is an important subset for us, but our relationship is much more than type 1.
Connor's personality is 100% him. He's calm, cool and collected.  He's played tennis at a high level since grade school and you cannot t tell if he's up 5-2 or down 2-5.  (Kendra and I have no idea where this came from as we're both somewhat tightly wired.)  He's got the generosity and open mindedness of his Mom and a pinch of stubbornness from his Dad.  I love it all and he's a joy to be around.
After high school in Kansas City, Connor attended Creighton University and graduated with degrees in Finance and Marketing Analytics.  Today, he lives in Phoenix and works in the financial brokerage industry.
He enjoys sports and his teams are the Creighton Bluejays, KC Royals and Denver Broncos (don't even ask me how someone raised in KC can be a Broncos fan!).  He and I have fun with our Chiefs – Broncos rivalry.
Thank you Connor for our relationship and the way you listen to my random rants, thoughts, and stories. You are one of the few people I trust with these.  Even more, thanks for being a terrific son.
Love You BTTMW!