Where do I start with the woman I love and share my life with?
I met Kendra in early 1993 at a place called Jocks & Jills in Midtown Atlanta.  As we began dating, I shared my diabetes and Kendra said that she understood as she had 2 sisters living with type 1.  Woah … didn't see that coming!  Much of what I needed to convey, wasn't necessary.  Kendra already knew.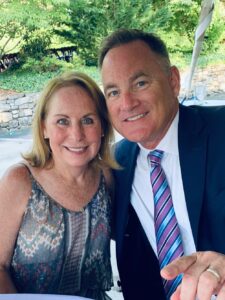 We dated for a year and half and were married in 1995. Life is better when shared.  It's even better than that with Kendra – and that includes my diabetes.  We are Soul Mates.  She's been there for me every step of the way. She listens (and puts up with) my constant babbling, analysis and attempts to balance food, exercise and insulin in order to achieve the holy grail of diabetes:  keeping blood sugars in a reasonable range.  But my diabetes is only a part of our relationship.  There's so much I can say about our relationship, but here's a small dose of my gratitude:
Kendra,
Thanks for being at Jocks n Jills in Midtown Atlanta on September 18, 1993
Thanks for returning my phone call a week later … and talking for over an hour!
Thanks for all the good times in Duluth, GA
Thanks for marrying me and making that the happiest day of my life
Thanks for our first home in Sherwood Forest
Thanks for your Mom – she is a Saint and her soul lives on!
Thanks for your side of our family – and what a large family it is!
Thanks for our son, Connor.  The day he was born is the second happiest day of my life.
Thanks for being an amazing Mother!
Thanks for moving to Memphis. Woah … that was a little stressful.
Thanks for moving back to my hometown, Kansas City.
Thanks for being there for me during challenging times when I was out of work.
Thanks for believing in me. 
Thanks for taking care of me when I'm low (blood sugars and otherwise)
Thanks for putting up with my feistiness and moods when I'm high
Thanks for going to JDRF walks, rides, galas and events.
Thanks for believing in me … when others didn't.
Thanks for listening to my constant babbles about diabetes meds & medical devices. 
Thanks for cheering for the KC Royals when I know in your heart you are a Cardinals fan.
Thanks for staying in the room while I watch the KC Chiefs (and I know you dislike football). 
Thanks for being with Connor when he was diagnosed. 
Thanks for not judging my decisions on managing diabetes. 
Thanks for researching and making food that works for diabetes. 
Thanks for encouraging me/us to take time away and get to the beach.
Thanks for getting lottery tickets. 
Thanks for the giving so much and being kind to others. 
Thanks for our lives together and making me the happiest guy on earth.
 Love you Hon!